About TDK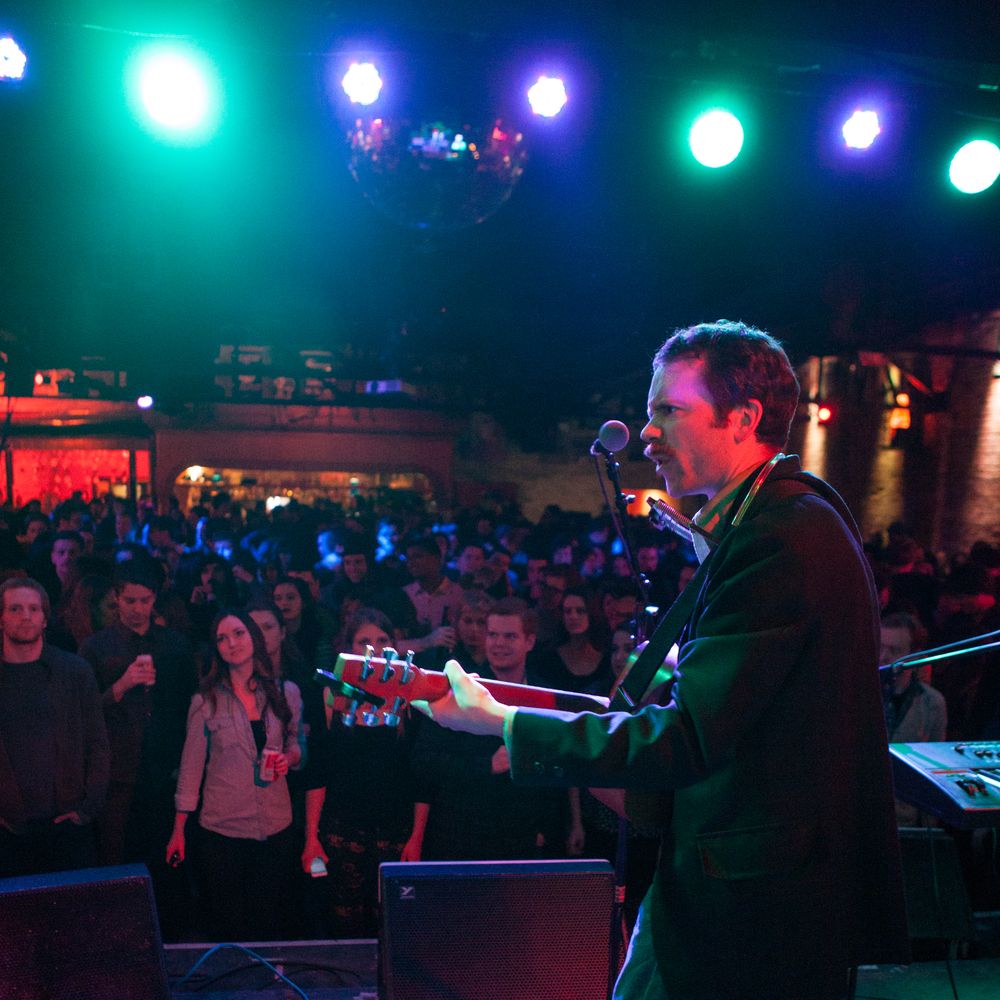 Tommy Douglas Keenan's songs are smirks of longing and shrugs of heartbreak. He has a keen sense of irony, which sometimes gives way to naïve optimism. He understands that beauty penetrates more deeply when it is idiosyncratic. Listening to his music, you can tell this guy grew up on the Beatles, and listens to a lot of Bob Dylan, Paul Simon, Cat Power, David Berman, Joanna Newsom, Bill Callahan, Kurt Vile, Bonnie "Prince" Billy... he probably liked the first two albums by Father John Misty, and I bet he was super into Modest Mouse for a while. 
A few years back (how many? Ohhh, a few), under the obscure pseudonym Tom Keenan, TDK put out his first album, Romantic Fitness. It's a scrappy little guy that you could probably beat up, but you might leave with your nose bitten off. No, actually it's pretty sweet, for the most part: just don't get it drunk.
TDK frequently collaborates with Matt Peters and his band Royal Canoe. Under the name Heavy Bell, the duo writes, records, and performs music rooted in literature. They have composed the music for three theatrical productions: The Winter's Tale, Am I Not King (for which they won the award for Best New Work at the 2018 Winnipeg Theatre Awards), and By Grand Central Station. The songs of the first two projects used the words of William Shakespeare; the third was a dance-theatre piece and concept album arranged for chamber ensemble, with words adapted from Elizabeth Smart's stunning poetic novel By Grand Central Station I Sat Down and Wept. Yes, very fancy. 
When not tenderly pissing and moaning about his love life, TDK is a professional actor of stage and screen. That must be why he's such a crybaby. 
Praise for Tom(my Douglas) Keenan's Romantic Fitness:
"Actually feels like a workout for the heart… a fantastic album" 
- Gateway Magazine, Edmonton 
"Able to captivate and connect with you almost immediately" 
- The Soft Signal 
"[He has] an enviable way with melody and a stellar sense of place" 
- Winnipeg Free Press 
"Keenan's wonderfully dark lyrics complement the seemingly uplifting, light-hearted folk ballads" 
- Stylus Magazine, Winnipeg 
"It's funny, but not a joke, and it's one of the most amazing things I've heard, ever" 
- Vue Magazine, Edmonton 
 "A solid, compelling disc you'll want to listen to repeatedly" 
- The Uniter, Winnipeg 
"Gritty and poetic… sounds like a darker Dylan" 
- L.A. Beat 
"Enough to sell even the most cynical listener on the virtues of folk music" 
- T.O. Snobs